Heat Exchangers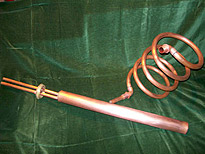 W. T. Randall Ltd have been manufacturing copper heat exchangers since 1974. Used primarily in the central heating trade, these hot springs (also known as coil indirect cylinders) and hot tubes are used to convert direct cylinders into indirect. These items have also been used for secondary heat sources in solar panel systems.
Note 1 (Jan 2010): We currently have 27" 'Fixed' Hot Tubes and 16" 'Adjustable' Hot Tubes in-stock. Please contact us for up-to-date pricing information.
Note 2 (Jan 2010): Unfortunately, due to lack of demand, we do not have any hot springs currently in-stock. However, please contact us if you do require a hot spring as circumstances may change.
If you would like more information about our copper heat exchangers then please contact us by phone, fax or email using the details at the top of the page.